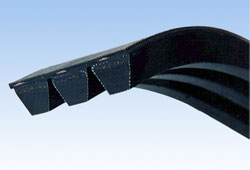 Joint V Belt
Joint V belts are formed by connection of a number of V belts. These products are stable in moving and free from trembling, clapping and turning over. Besides, with large loading capacity, our products are especially suitable for high power drive. According to the connected type, we offer joint common belt and joint narrow belt.
Specifications of Joint V Belt
Name
TYPE
Top width (mm)
Height (mm)
Distance Between Centers (mm)
Angle (°)
Effective Length (mm)
Joint narrow V belt
9J/3V
9.7
9.7
10.3
40
1240~5300
15J/5V
15.7
15.7
17.5
1240~16000
25J/8V
25.4
25.4
28.6
2540~16000
Joint common V belt
AJ
13.0
10.0
15.88
40
1240~5300
BJ
16.0
13.0
19.05
1240~5300
CJ
22.0
17.0
25.4
2540~16000
DJ
32.0
21.0
36.53
3000~16000
We are a joint V belt manufacturer and supplier in China. In addition we also offer a wide range of rubber hoses and conveyors belts. With reliable quality and stable performance, our products have earned a good reputation. Till now, these products are used in mining, porting, chemistry conveyor systems, etc. If you have a need for above mentioned products, we welcome you to contact us!