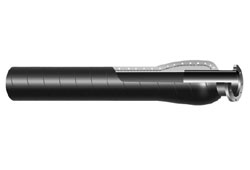 Industrial Rubber Hose
Structure
The internal and external layers of industrial rubber hose are both composed of synthetic rubber which is tight sealed and aging resistant. The enhancement layer adopts compound of high strength dipped chemical fiber cord and canvas.
Applications
Our industrial hoses are utilized to transport high pressure water or mated with oxygen furnace steel equipment. These rubber hoses feature stretch-proof and warping resistant and can operate at high pressure for a long time. The metal couplings are reliable in seal and have great pull strength.
Size and technical parameters of industrial Rubber Hose
I.D
W.P (MPa)
B.P (MPa)
Max length (m)
B.S (inch)
M.S (mm)
Tolerance (mm)
2
51
±1.5
1.5 2.0
3 times bigger than working pressure
20
2-1/2
64
3
76
±2.0
3-1/2
89
4
102
5
127
±2.2
Established in 1985, our company is an experienced manufacturer of all kinds of industrial rubber hoses in China. We have received ISO9001:2008, ISO14001 and OHSM18001 certifications. Till now, our rubber hoses are popular with customers from many countries and areas, including America, Spain, Argentina, South Africa, Norway and Australia, etc. If you are interested in our products, please contact us. We look forward to cooperating with you.