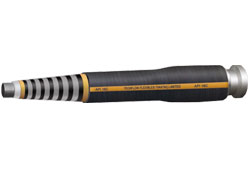 Choke and Kill Rubber Hose
Our choke and kill rubber hoses are especially designed for transporting acid medium and exerting pressure, passing performance test of Clause 9.14.12, API 16C. The framework is made of high strength steel wire rope. The inner liner adopts stainless steel spiral cover. Nylon canvas is used both in the inner liner and in the outer protection layer. As a key part, the seal layer of our choke rubber hoses utilizes a king of special synthetic chemical material which is hydrothion resisting. Furthermore, the external part of choke hose is fireproofing. If there is a need for powerful protection, we can add one more stainless steel spiral cover outside.
Applications
As an important part of the choke and kill system, this type is applied to resist spurt in well drilling on ground or underwater.
1. When it is infeasible to adopt normal cycle with drill string, API 16C kill rubber hose is used to pump fluid into the rockshaft.
2. When stratum liquid pool into the rockshaft and formulate a rush of blowout, we can use API 16C choke and kill hoses to exert back pressure to the stratum.
3. It can also be adopted to transport acid medium.
Executive Standard
API Spec16C
Specifications
| | |
| --- | --- |
| Operating temperature | -25 to +121℃ |
| Inner diameter | 51mm ~ 102mm |
| Working pressure | 5000PSI~20000PSI(34.5Mpa~138Mpa) |
| Maximum available length | 61 m |
| Production length tolerance | Hose length≤6.4m: ± 64mm Hose length>6.4m: ± 1% |
| Minimum bending radius | Refer to the centreline of each hose |
Note:
1. Additional external protection for chock hose can be added at customer's requirements.
2. Materials of end coupling meet NACE MR0175 / ISO 15156 standards
We are a manufacturer of choke and kill rubber hoses in China, certified by ISO9001:2008, ISO14001 and OHSMS18001. Additionally, we also offer other products with a wide range of specifications, including fabric reinforced rubber hoses, elevator conveyor belts, narrow V belts and more. We have easy access to airway, waterway and land transportation. Hence, transportation costs are saved both for us and customers. We welcome you to visit our company. We are looking forward to a wider cooperation!