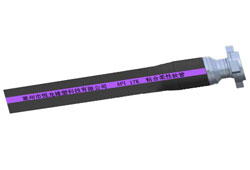 17K Rubber Bond Hose
This 17K rubber bond hose has a framework of high strength steel wire rope. The inner lining adopts a kind of special chemical material. Nylon canvas is used as lining layer and external protective layer for our 17K bond hoses. The external part of 17K rubber hoses is fireproofing layer. Besides, spiral cover made of stainless steel can be added if it is required by customers.
Applications
Our rubber bond hose is primarily utilized in marine drilling platforms to transport crude oil, natural gas, and acid medium as well as infuse gas.
Executive Standard
API Spec 17K
With 20 years experience, we have developed into a professional 17K rubber bond hose manufacturer and supplier. Our company is certified by ISO9001:2008, ISO14001, OHSMS18001 and more. Due to our good quality and service, our rubber hoses are well received in every corner of the world, including America, Spain and Italy, etc. For more information, please contact us at any time!